Join Us on FaceBook


Join Us on Twitter


Check Out Our Store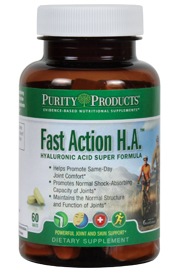 Fast Action H.A.
Purity Products Price: $54.95
the VitaGuy's Price: $46.95
Quantity: 60 Tablets- 30 Day Supply
Serving Size: 2 Tablets
Number of Servings: 30



Fast Action H.A. Formula

Features and Benefits: Fast Action H.A. is iron free and updated regularly to reflect the latest science. It powerfully supports:



Helps Promote Same-Day Joint Comfort*
Promotes Normal Shock Absorbing Capacity of Joints*
Maintains the Normal Structure and Function of Joints*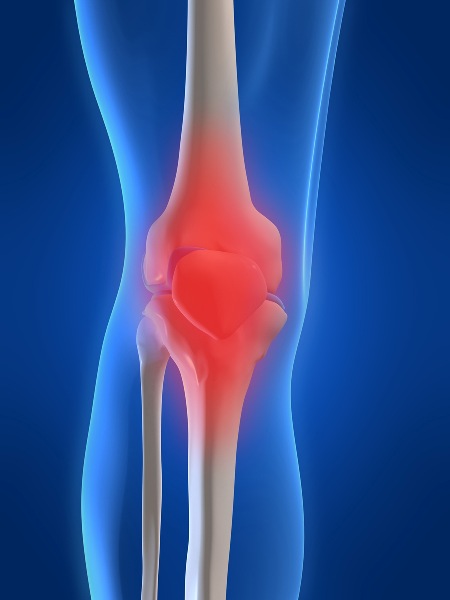 Introducing Fast Action H.A.
For people who want even faster results from their joint supplement, Purity proudly introduces Fast Action H.A., which may deliver " Same Day" joint comfort benefits with Perluxan.

Joint-Easing Benefits Within 2 Hours*

Additionally, Fast Action H.A. contains Perluxan, a unique standardized extract of Hops that has multiple documented actions in supporting normal joint comfort.*
In a pilot randomized, double-blind clinical trial, Perluxan delivered it's joint-easing benefits the same day.*

Fast Action H.A. - Promotes Joint Comfort in as Little as Two Hours*
For people who want even faster results from their joint supplement, Here at the VitaGuys, We are Proud to introduce Purity's Fast Action H.A. their most advanced H.A. formula ever. The cornerstone of this formula is Hyaluronic Acid or H.A., but that's only the beginning.
In addition to H.A., the cutting edge ingredient Perluxan (a clinically tested extract from hops) has also been added for its ability to support joint comfort in as little as two hours.* One of Purity's best selling joint support ingredients, H.A. is often called "the molecule of youth" because our body produces it in abundance when we're young. That's why young people enjoy supple, flexible joints and youthful skin. Unfortunately, bodily HA production slows down as we age. The good news is that supplementing with HA can help preserve and maintain active, healthy and flexible joints.*

The Joint Cushioning Properties of BioCell Collagen II
Manufactured through a patented process that ensures quality and purity, BioCell Collagen II fortifies joints with H.A., plus two other key ingredients for supporting healthy joint cartilage: hydrolyzed collagen Type II and chondroitin sulfate. All three are components of your own joint cartilage andall are known to benefit joint health.* BioCell Collagen II has been clinically tested and found effective in maintaining normal joint comfort.*

230 Compounds Evaluated, 20 Tested - Perluxan Won
to help better understand the evolution of Perluxan it is important to note that, during the late 1990's, a handful of research companies began looking for natural ways to specifically support joint health and promote normal joint comfort. Extensive literature reviews of 230 botanicals in combination with a state-of-the-art screening assay, determined the overall effectiveness of various active agents extracted from plants. The early botanical cell assays yielded about 20 candidates, and these herbal finalists participated in a series of proof-of-principle studies to investigate their potential of eventually becoming a natural, efficacious product used to maintain comfort in the joints. Of those 20 prospects, one ingredient was identified as having the highest chance of success. This ingredient, a standardized extract of hops previously known for its antioxidant properties, was subsequently tested at the respected William Harvey Institute in the U.K. using the gold-standard William Harvey Whole Blood Assay. This ingredient was Perluxan.

Perluxan - Clinically Tested Ingredient that Helps Support Normal Joint Comfort in as Little as Two Hours*
Perluxan is a unique standardized extract of Hops that has multiple documented actions in supporting normal joint comfort.* In a randomized, double-blind clinical trial, Perluxan delivered its joint-easing benefits in just2-hours. What makes Perluxan unique is the quick onset of benefits. In the human trials, Perluxan supplementation exhibited fast action while study subjects were sitting, lying down or walking on a flat surface. Most notably, it works within as little as two hours after taking it the first time. The researchers concluded that Perluxan effectively supports healthy joint function and quality of life.*

Researchers have discovered that Hops cotain natural components called alpha acids which directly benefit joints.*
Perluxan is standardized to contain 30% alpha acids using state-of-the-art extraction technology. Perluxan has been clinically tested in human studies performed at the renowned William Harvey Institute, Royal London School of Medicine in the U.K. Perluxan is gentle, safe and free of the sleep inducing effects of ordinary Hops. Perluxan has been shown to work gently with the body's natural biochemistry that keeps joints in their normal state of comfort and healthy function.*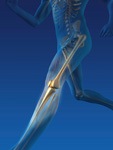 Joint Supporting Ingredients

FruiteX-B is another natural ingredient with researched benefits for joint well-being.* FruiteX-B is calcium fructoborate, a highly bioavailable form of boron found in fruits and vegetables. Like each of the other joint-support ingredients in Fast Action H.A., FruiteX-B has also passed muster in a double-blind clinical research study. Subjects in the study who took FruiteX-B showed significant gains in ability to move joints freely and engage in daily activities. The results of this research show that FruiteX-B is an effective nutritional partner with Perluxan and BioCell Collagen II for support of the body's natural ability to maintain joint health and comfort. Fast Action H.A. also contains VitaBerry, a blend of berry extracts that nourish the body with the benefits of berries such as blueberry, bilberry and others.

*These statements have not been evaluated by the Food and Drug Administration. These products are not intended to diagnose, treat, cure or prevent any disease.


Join Us on FaceBook


Join Us on Twitter


Check Out Our Store